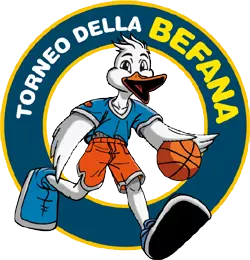 During the 1998 summer, in front of a blue see, Leopoldo Carraro decided that it was time to get our Nation to know the National and International minibasket. The best period to do it were the Christmas holidays and, as not to invade the Christmas presents and the New Year's Eve fireworks, the most appropriate period was especially between New Year's Day and the Epiphany Day.
No sooner said than done, in 1999 the first edition involved 12 teams already: Pall. Limena, Basketlandia Padova, Canossa Conselve, Cmb Campo San Martino, Basketmania Vicenza, Juve Pontedera, Don Bosco Livorno, Mens Sana Siena, Vigna Pia Roma, Minibasket Roseto degli Abruzzi, San Raffaele Roma and the only foreigner, Dusan Hauptman Basketschool Lubiana.
In this edition participated also Daniele Bonessio and Gianni Cantagalli, who reached the A2 division at the end of their youth activity. They gave life to a wonderful finale won by the first one after an extra time. Pall. Limena team got the 4th place behind the Minibasket Roseto degli Abruzzi team.
Some teams are vital part of the Tournament, as they have always taken part in the event since the first editions, as an example Siena and Roma teams.
Since that first edition the Tournament has grown and it is now one of the most important event of the National minibasket. Edition by edition the numbers have grown together with the quality of the organization.
Since 2009 the Befana Tournament had a great turning point and began to reach first nearly 40 teams participating and then it reached and passed this level and arrived to get 48 participating teams and 800 children enrolled in the 2013 edition.
Moreover, since 2011 the Tournament has become International again, like the first edition, thanks to the participation of Polish and Macedonian teams.
What has never changed since 1999 is the Tournament spirit: at the Befana Tournament you will always find the true spirit of minibasket, a joyful atmosphere on a child scale!
Press office Befana Tournament